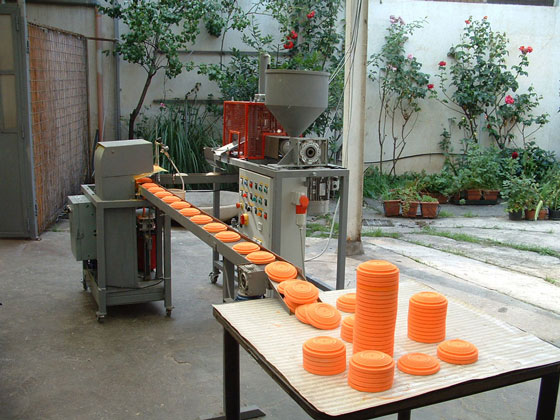 We have built a simple, strong and economic moulding machine for small businesses or for shooting ranges interested in producing ecological clays for their own needs or for sale to third parties.
The material used to make the clays, protected by an international patent, is biodegradable and comprises calcium carbonate bound with vegetable wax, encoded in the list of food additives admissible in the EU and identified as E170 and E570.
The user purchases the ingredients directly on the free market, prepares the material, moulds the clays and recycles the scraps and broken clays found on the range, in complete autonomy.
The basic line is made up of a turbo-mixer for preparing and granulating the material and of an automatic press which produces 400 clays per hour.
In their natural state, the clays are white, but they can be coloured by adding harmless colorants directly into the material.
To decorate the clays in special colours or in highly visible fluorescent shades, it is possible to add an automatic painting unit to the line, which uses water-based ecological paints.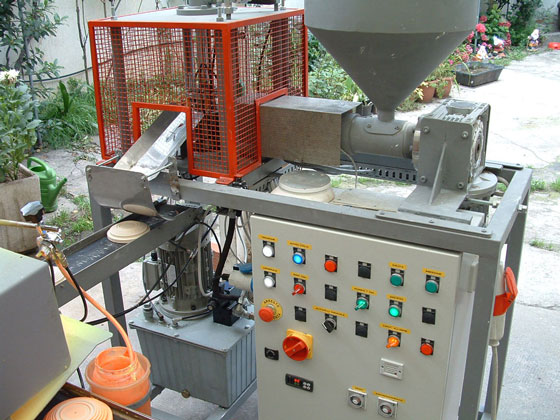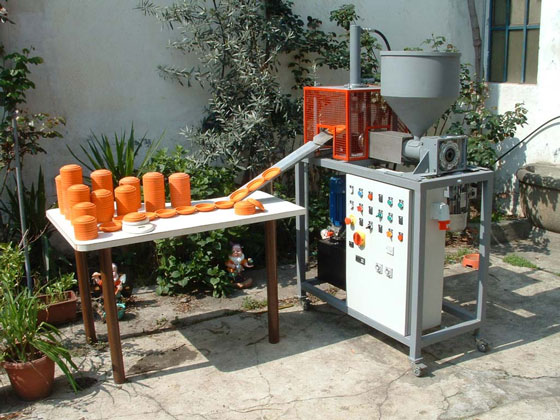 The press is usually supplied with a single imprint mould for the production of standard ISSF clays with a diameter of 110 x 25 mm weighing 105 grams, but we can supply moulds for the production of hare-type targets or other types.
The process produces neither fumes nor odours and takes place at just 80°C, with exceptionally modest energy consumption.
In our Turin showroom, you can see the machine in operation, taking photographs or filming the process. We will answer all your technical and commercial questions and offer you a free sample of a few dozen clays, hot off the production line.